Space Weather & Amateur Radio
At Lakeside Fisheries & Aston Park Caravan Site we have a very keen interest in Space Weather & Amateur Radio. 73s from Keith G7CAY
We regularly welcome fellow enthusiasts from all over the world to our site.
We have quite an impressive Radio Rig here at Lakeside participants in ham radio projects.
BUT NOT A LOT OF TIME at the MOMENT.....................G7CAY
GB3FC RB2 433.050 Mhz 82.5 Hz Blackpool 70cms. rptr.
In radio terms this is very bad news, during the last solar Maximum I was astounded to
have a reply to a CQ call Answered by some guy on statin island NY on a hand held!
If as looks likely; The Higgs boson has been found it will be a significant milestone in the understnding of particle physics
CURRENT MOON
MAXIMUM USEABLE FREQUENCY
ATTENUATION
CME PLOT (GONG)
SUN

IS AT CENTRE EARTH IS

YELLOW
MAIN SHOCK WAVE IS AT MARS
RED
_______________________________________
International stage for Met Office scientists
24 October 2011 - Met Office science will play a central role at an international event attracting hundreds of climate scientists from all over the world.
The Open Science Conference of the World Climate Research Programme is one of the biggest events of its kind.
Held this week in Denver, Colorado, it will cover all aspects of understanding and predicting climate and deliver a comprehensive assessment of global research on the subject.
Peter Stott, Head of Climate Monitoring and Attribution at the Met Office, will be delivering a keynote talk on continuing research into how climate change is affecting extreme weather.
___________________________________________________________________________________-
Best
Northern Lights I've seen since 2004,"says Shawn Malone,
who took this picture from the shores of Lake Superior in Michigan: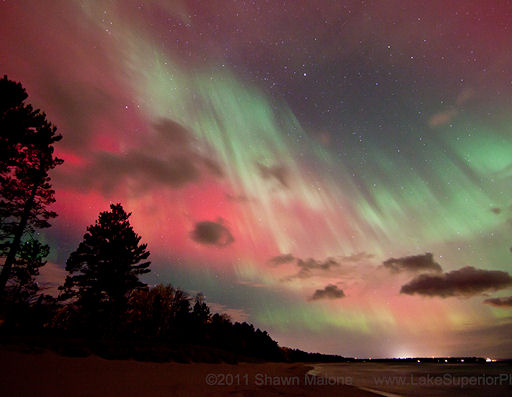 "The auroras filled the sky in every direction--even to the south," he says.
Indeed, the display spread all the way down to Arkansas. "When I saw the alert,
I ran outside and immediately saw red auroras," reports Brian Emfinger from the city of Ozark.
"Within a few minutes the auroras went crazy! Unbelievable!"
DATA FROM SPACE WEATHER INFORMATION MONITOR
___________________________________________________________________________________________________________
RADIO Society
of
Great Britain
UK and US to undertake collaboration on space weather
31 May 2011 - UK Prime Minister David Cameron and US President Barack Obama welcome the growing partnership between the Met Office and the U.S. National Oceanic and Atmospheric Administration's (NOAA) National Weather Service in working toward the delivery of space weather alerts.
The signing of a Memorandum of Understanding between the Met Office and NOAA in February 2011 provides for a coordinated US-UK partnership. This involves a range of UK and US agencies and organisations in the delivery of Space Weather alerts to help provide critical infrastructure protection around the globe.
The two governments have announced that they will embark together on an ambitious programme to create the world's first combined space weather model capable of forecasting terrestrial weather and also indicating where, when, and for how long space weather effects will persist in our upper atmosphere. Space weather anomalies can disrupt and degrade GPS-enabled positioning, navigation, and timing capabilities.
[Solar Wind] [ACE]
| | |
| --- | --- |
| | 6.6846*10-12 au |
| | 3.2408*10-17 pc |
| | 1.057*10-16 ly |
| | 9.2657*10-13 lh |
| | 5.5594*10-11 lmin |
| | 3.3356*10-9 light s |
All times displayed are local. from spaceweather
Read more...